COMPANIES
Korean companies recognized
around the world for their
World-Class products
and services
KOSEC
KOSEC (Offshore Plant Engineering Cooperative) Mac-Net Member
Beyond shipbuilding
Offshore plant engineering cooperative (KOSEC) consisting of small and medium-sized companies that have the shipbuilding engineering technology, is committed to strengthen the technology capabilities and sales activities, to increase the business impetus and business-to-business synergy effect.
KOSEC is doing its utmost effort to establish the integrated support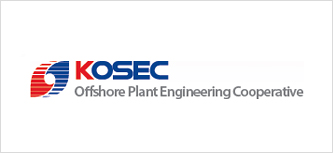 system for the members to enter the global tier 3 and contribute to the globalization of engineering technology.
KOSEC is also committed to establish the infrastructure for engineering house and cloud service, to nurture skilled human resources, to expand its connection to the global companies.
Association (Offshore supplies)