COMPANIES
Korean companies recognized
around the world for their
World-Class products
and services
K-SURE
K-SURE (Korea Trade Insurance Corporation) Mac-Net Member
Hope for trade and overseas investment
Korea Trade Insurance Corporation (K-sure) was established in July 1992 pursuant to the Trade Insurance Act for the purpose of promoting international trade and overseas investment of Korean enterprises with the mission to boost the national competitiveness of Korea.
As the official export credit agency under the Ministry of Trade, Industry and Energy, K-sure focuses on · operating various trade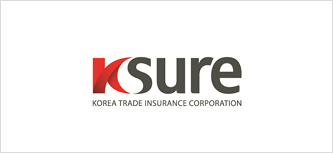 insurance programs to cover risks arising from the import and export of goods and services and other international transactions involving Korean enterprises, as well as managing credit information related services, and recover debts including receivables for Korean enterprises. It is also highly important role to responsibly underwrite trade insurance with the credit ceiling set and approved by the National Assembly of Korea each year.
K-sure believes that a successful penetration of Korean firms into global markets will provide the critical momentum needed for the growth of the Korean economy. Thus, it will offer tailored trade insurance services for those firms that try to find new markets amid global uncertainty so that they can pursue their business with peace of mind.
In short, K-sure duly performs the role of a confident partner to Korean exporters by reflecting what was heard at the actual exporting sites to its operation and provide optimal solutions customized to each individual exporter.
FInance
Short-term Export Credit Program (ST)

Medium- and Long-term
Export Credit Program (MLT)
Export Credit
Guarantee

Foreign Exchange Risk Insurance

Credit Research

Risk Management